Friday, April 24, 1998

Hey Y'all! My name is Trackside Angel, alias Lover Boy. But you can call me LB. I'm a Greyhound who used to race. Mama says I'm not "retired" because I'm still sorta involved in the racing business. I just don't run anymore. I just came here from the racing kennel yesterday, but I've known my new Mom and Dad for a while. Loretta, my first Mom and trainer, told me I was going to come here to live with my litter mate, CJ, so I've been looking forward to it for a while. The big day finally came yesterday and I love it! Mama was warned that I would be "spoiled" right from the box, so she was prepared. I've been here about 20 hours now and I've already discovered toys, the sofa and Mama's bed. I'm a pretty smart guy. Plus I have my real brother and three other Greyhounds here to show me all the tricks.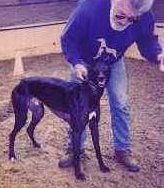 This is me and my new Daddy
back when I was still a racer.
I loved racing, too, and I was good at it! I was running in Class AA when I chipped a stopper bone and had to retire. Loretta and Harvey took great care of me and we had a lot of fun. They love all their hounds, but CJ and I were special because we were the only two boys in the first litter they ever raised together. CJ was a good racer, too, but he broke his leg when he was just 2. That's why he came here to live a year before I did. But we're back together again and it's just like old times. We've been doing a lot of catching up, him telling me about life here in the house and me telling him what's been going on at the track. And with five of us hounds here and a big back yard, we have our own little races.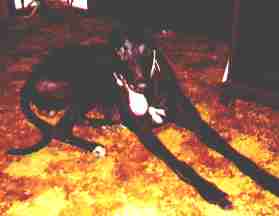 My first night at home.
I could tell you a whole lot more about my new family, but all the hounds here have their own web pages, so you should just go visit them. My litter mate CJ's page has pictures of lots of our relatives, including a picture of our whole litter when we were pups. And it has our pedigree, too. Then there's my new brother, Blarney. Blarney's page tells about his transition from racer to family dog. Blarney's a little younger than me, so he's Mama's baby. But he's fun to play with. He and Cassidy and I play tag with a big stuffed bunny in the back yard. Cassidy is my new sister, and she's a hoot. Her page is called Cassidy's Corner. Then there's my other new sister, Giz. She's an old gal, almost as old as my 4-legged mother. But she's real nice and shares her futon with me. Her page is called Lizabon because that was her racing name.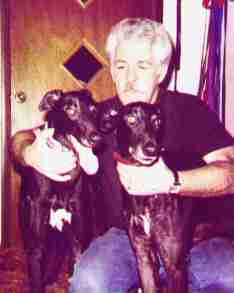 CJ and me with Daddy. I'm the one with the
handsome smile. CJ says he's just more
dignified, whatever that means.
I'm really enjoying this family thing, but I knew I would because Harvey and Loretta told me so. CJ came with Mama and Daddy to pick me up and Mama rode all the way home in the back of the van with us. She said something about bonding. It must have worked because I've stuck right beside her most of the time ever since. I thought I might sleep on the bed with her last night, but CJ and Giz beat me to it. I'll try to be quicker from now on.
Tomorrow we're going to the park to a Ramp Festival. I don't have a clue what that means, but CJ went last year and he says it's fun. Mama says it's part of my new job. I'm supposed to be my normal friendly self and let people see how nice Greyhounds are so more of them will adopt us. I think all the other Greyhounds should just come home to our house when they retire, but Daddy says he thinks there are about enough dogs here now.

Tuesday, June 30, 1998
We just got back from the Great Lakes Greyhound Gathering in St. Joseph MI. We had a blast! I'd never been to a big Greyhound party before. It took about ten hours to drive up there, but it was worth it. There were lots of people and dogs and swimming pools and stuff. I got to meet a lot of the Cassidy Clan and run in Grandma Connie's big backyard with a bunch of my clan cousins. There's a Cassidy Clan page, if you want to see it and meet my new adopted relatives.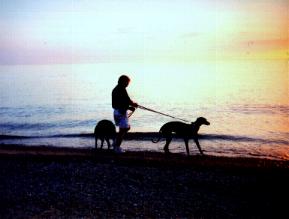 Daddy walking CJ and me at Lake Michigan
Saturday, August 15, 1999
Yesterday was CJ's and my birthday and today we had a party! Mama and Daddy took the five of us hounds to the park, and our Greyhound friend Memphis came, too. There were lots of people there and even a band playing. We found a picnic table and Mama served a carrot cake just for us. She made us wear silly party hats, but I didn't mind. The cake was yummy and I got icing all over my face. Mama laughed and took lots of pictures, but she hasn't gotten them developed yet.

Wednesday, September 9, 1998
Mama's going to have to do a lot of updating on my page now because guess what? I went back to work today! My injured leg healed up better than anybody thought it would and since I used to be a pretty big winner, Mama and Loretta started talking about putting me back on the track. They finally decided yesterday to let me have another shot at it. Mama cried a lot last night. I don't know why because I'm excited about it! I guess she's going to miss me while I'm gone, but she knows I'll be back home when I re-retire.
I'm a little sad, too, because I won't get to see Mama for about a month. But this is too much fun to pass up! I just love to race and I love Loretta and Harvey as much as I love Mama and Daddy. They always take good care of me. I was so excited about seeing them again today that I "talked" to Harvey. I think Mama was a little jealous because I never talk to her. Remind me to do that sometime. But I know she was glad when she saw how happy I was to be back with my old buddies.
I'll have to call in my reports for a while now because Loretta won't let me have a computer in the kennel. But she did let me keep my stuffed clown, and two of my sisters are here in the kennel with me. And I know if I work hard and get back in shape Mama will come watch me race. I'm going to try real hard to make her proud of me. And she says she'll take pictures of me at the track to put on this page. So be sure to keep coming back for updates.

Thursday, September 24, 1998
I had a phone chat with Mama today. Okay, I didn't, but Loretta (my trainer/other Mama) did. I'm having a great time! I'm sprinting hard now and maybe next week Loretta is going to start hand-slipping me on the track. I finally get to chase the bunny! Mama gets to come see me in a couple of weeks. I can't wait to see her and introduce her to all my new pals. I just wish she could bring all the other family hounds with her when she comes.
Mama says we have a new hound in the family. His name is Tony, and I haven't met him yet, but if Mama and Daddy love him, I'm sure I will, too. He came from the same track I'm at now, but he was here while I was gone, so our paths haven't crossed yet. Mama made him a web page, of course, so be sure to visit Tony's Tail!

Monday, October 5, 1998
Today I ran my first schooling race since I've been back. Dusted 'em, I did! And had a blast, too! But I pulled a ligament in my toe and Loretta is going to send me back home to Mama. She says I'm too old to take the risk of getting hurt again. What?!? I'm only 4! And racing is so much fun. Especially winning! I used to do that a lot. But I guess now it's time to rest on my laurels.
If Loretta's not going to let me run anymore, I hope Mama comes for me soon. My toe does hurt a little bit, and I know Mama will really baby me. Hee hee! Loretta babies me, too. And she seems so sad about my owie.

Thursday, October 8, 1998
Mama came to get me tonight! She came in the kennel this afternoon and I got all excited! I ran all over the place, back and forth from Mama to Loretta, kissing them both. But then they put me back in my crate and Mama left. I was pretty confused and disappointed. But after a while Mama came back and we went home. She had just gone to watch the races for a little while. Now I'm home with my family again and I got to meet my new brother, Tony. He's pretty quiet, but he's okay. It sure is good to be home with Daddy and the other kids. CJ and I had a lot of catching up to do.
I wish Mama would come to bed, but she says she's got too much to do to get ready for our trip tomorrow. What??? I just got home! Where are we going now? Oh well, I know it'll be fun. Our trips are always fun!

Tuesday, October 13, 1998
Well, we're home again and guess where we went??? Dewey Beach!!! Boy, I'm glad Mama came to get me in time for that trip! I've never been anywhere like that before, and it was fun! There were hundreds and hundreds of Greyhounds there, and this huge lake. Biggest lake I ever saw! Mama says it's called the ocean. Even bigger than that lake up in Michigan where we went for the GLGG. We went for long walks TWICE every day beside the lake. It was fun because you can chase the water and then it'll chase you back. And it has neat sand beside it. It sort of feels like a race track. A lot of the Greyhounds felt the sand under their feet and really wanted to run. I know I did! But they wouldn't turn us loose so we could. But maybe next year? Daddy made reservations (whatever that means) so we can come back. I can't wait!

Monday, November 30, 1998
We're just back from another trip. We went to Michigan again, this time for the Cassidy Clan Thanksgiving bash. I knew that was going to be fun because CJ went last year and he told me all about it. I got to meet a whole bunch of my Cassidy Clan cousins. Deuce was there. He had cancer and now he only has three legs, but he gets around just fine and I like him. And Uncle Harold came all the way from Seattle and brought us hedgehogs! Uncle Harold's cool. Before we left to come home yesterday, Aunt Cammie gave us some birthday cake because it was Tony's birthday. Tony says the whole thing was his birthday party, but I happen to know they had the same party last year and Tony wasn't even there.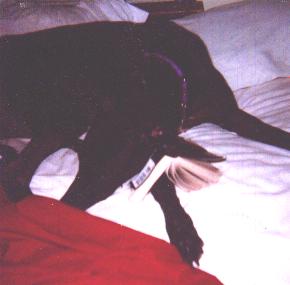 It took me a long time to read
The Horse Whisperer
.
It was good, but I kept dozing off.

Friday, December 25, 1998
Today is Christmas. I've never had a family Christmas before, but it seems to be a pretty big deal. We came down to North Carolina to spend it at Grandma's house and Aunt Bridget and her family came for dinner. I got a new chew toy and a lot of attention, so I liked it.
This morning we had a big adventure. Mama let us outside after breakfast and Tony found a little hole in the fence. We all got out and went for a good run! But then we all got split up and I realized I was all alone and didn't know where I was. I walked around for a long time, trying to figure out how to get back to Grandma's house, and finally Daddy drove up in the van. Boy, was I glad to see him! Mama jumped out and came to get me. She cried. I guess she was as scared as I was. She said to remind everybody to always check fences, even if you're sure they're safe.
When we got back to Grandma's house the other dogs were already home. Daddy had been driving around looking all morning and found most of us. A nice lady found Tony and called Grandma's house. We all had on temporary ID tags with Grandma's phone number on them. Guess that saved Tony's skinny hide, huh? Mama says remind everybody to put temporary tags on your dogs when you travel. She just uses the little cardboard kind with metal rims, like they use for keys at car dealerships. And use little keyrings to attach them to the collars. The wire rings that come with the tags won't stay on. Mama says it looks a little tacky, but if it gets us home safe we can put up with tacky. I don't know if we would have ever seen Tony again if he hadn't been wearing his. Mama says it's a miracle we all got home safe anyway. Good thing it was Christmas morning and there wasn't a lot of traffic!

Sunday, January 10, 1999
This place is getting crowded! Mama went to Virginia and brought Opie back the other day, then today she brought Flint and Nate home. She says they're all fosters. That means they probably won't be here long. I wonder where they're going? Cassidy and Tony told me they were fosters, too, but they're not going anywhere.

Friday, February 5, 1999
Aunt Cammie's here! And Caiti! And another lady named Tracy with two neat boys. They're all going to the races tomorrow. Can I go? I want to see Loretta and Harvey! Maybe I can talk Loretta into letting me race again!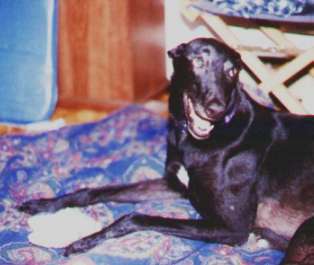 Aw, come on! Can't I go? Please?

Sunday, February 7, 1999
Nope, I didn't get to go. Phooey! They stayed gone all day and when they came back they brought another Greyhound named Crypton! He smells like Loretta. I think he came from her kennel. That made 10 of us here! But this morning Aunt Cammie and the other people left and took Crypton, Opie and Flint with them. Mama says they're going to their new homes. Nate's still here. Mama and Daddy seem to be pretty fond of him. But they were fond of Flint, too, and now he's gone. Sometimes life is confusing!

Sunday, February 14, 1999
Today is Valentine's Day. I like to think of it as my special day because I'm Lover Boy. Mama and Daddy have started calling Nate "MONSTER" (all in caps because they usually yell it <G>). That's a good sign. When they change the name, they usually end up staying. I'll ask Mama.
Yep, she says MONSTER is staying. Cool! I just found out that he was born in Harvey and Loretta's basement, in the same whelping box where CJ and I were born. No wonder he's such a neat kid! Flint was born there, too. But Flint and MONSTER both lived at Harvey's kennel at the track and I lived in Loretta's. We compared notes on that. Turns out Flint and MONSTER were friends before they came here. MONSTER was worried for a while that he'd be lonesome without Flint, but Cassidy and I play with him so he's doing fine. He's pretty tough for such a little guy. He wears me out playing tug-o-war! Sometimes I let him win just so he won't give up. But I can win anytime I want to.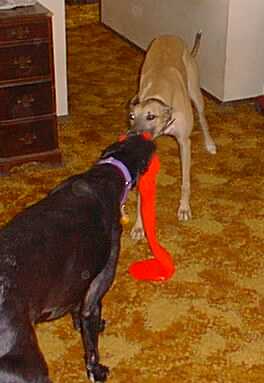 Should I let him win this one?

Sunday, February 21, 1999
Things are about back to normal around here now. Mama says the place looks kind of empty with only seven Greyhounds, so I guess there will be another foster along sooner or later.
Since Monster is staying, Mama built him a new web page yesterday. She called it Monster Movie! Boy, Mama can be pretty silly sometimes. Now Tony's mad because Mama hasn't made his permanent web page yet. I better go remind her. See you later.

Friday, April 23, 1999
I've been here with my family for one year today. Mama says it's my "gotcha day". It's been a good year. I've been to lots of new places and seen some cool stuff. And I have friends all over the country now. I really love this family thing, but I do still miss racing a little bit. The perfect life for me would be to race once or twice a week and then come home to live with my family in between. But Mama says I can't have it both ways. I guess if I had to choose between Mama's bed and the kennel I'd take the bed. Racing was fun, but this is the good life!

Sunday, May 9, 1999
My sister (and CJ's sister, too) Sweetie Girl had puppies yesterday! There are two little black girls, and two black boys, and a fawn boy. I don't know how that fawn got in there. We angel hounds are all supposed to be black! Mama and Daddy went to Cross Lanes to see them today and they came home real excited. I guess someday after the puppies have raced and retired my two black nephews are going to come live with us. That'll be fun! I hope they're all as fast as I was.

Monday, June 28, 1999
We just got back from another trip to Michigan. It was fun getting to see some of my friends that I met last year, but it sure was hot up there! And we didn't go to the lake this time. I was kinda disappointed at that, but Mama thought it was a good idea to stay in the motel room where it was cooler. There were eight of us hounds on this trip because Mama and Daddy flunked fostering again and Willie joined our family a couple of weeks ago. Will's a pretty cool dude. He was in the racing kennel with me before. But eight hounds in the van is just too much, so Mama and Daddy bought a bus for us. Wanna see it? We haven't picked it up yet, though. I sure hope we have it in time for the next trip!

Sunday, August 1, 1999
Guess what??? We're moving! Mama and Daddy bought a new house for us. It's lots bigger and it had a huge yard. Mama says that means room for more Greyhounds. Daddy just looks at her funny when she says that. If more hounds come to live with us it'll be fun, but what I'm really excited about is the new house is in Cross Lanes, not too far from Loretta and Harvey's house, so I'll get to see them sometimes. It'll be like having two Mamas and two Daddies. I might even get to see my sisters every now and then. And Mama said she might even try to get permission to take me to the track sometime if I promise to behave myself. Boy, I can't wait! Only 1 month till moving day.

Saturday, August 14, 1999
Today is CJ's and my birthday! We're five years old now. CJ's getting white eyebrows like an old dude. Not me! I thought we might have a party like we did last year for our birthday, but Mama says we're going to wait until after we move so Loretta and Harvey can come to the party, too. That'll be fun! Since we didn't have a party yet, Mama cooked us some liver! YUMMEEEE!!! The liver made Tony get all frisky, so now Mama says she's going to cook it for us once or twice a week. Way to go, Tony!

Tuesday, August 31, 1999
We moved to our new house today. It's pretty neat, with lots more room for us to play. But the best part was as soon as we all got there my "other" Mom and Dad came over to help Mama and Daddy unload the truck. I didn't realize it but I'm back in my hometown where I was born. Now I'll get to see Mom Loretta and Dad Harvey more often. Yippee!!!

Saturday, September 18, 1999
You won't believe the week we just had! On Wednesday we all got in the van for a trip. We headed north, so I figured we were going to Michigan. But when we got to Columbus we stopped and there was our new bus! We all got in the bus and off we went again. Yup, we ended up in Michigan, at Aunt Kathy's house. But then we went to another house and a new Greyhound got on the bus. His name is Elvis. So now I have another brother. Cool! The next day we went to visit Grandma Connie, and on Friday we started for home. We spent the night somewhere in Kentucky and just got home today. The bus is fun, kinda like the van and a big motel room all in one.
When we got back to Cross Lanes Daddy parked the bus at the track because there's no place to park it at home. But the van was still in Columbus, so we all got in Harvey's hound hauler to ride to the house. Only I didn't know we were going to the house. I thought since I was in the old hauler again we must be going to race, and I got SO excited! I was a little disappointed when I jumped out and found myself in my own backyard. But it's still good to be home.

Tuesday, October 12, 1999
We just got back from Dewey Beach. That was another fun trip except that the bus broke down on the way home. I sure hope it's fixed in time to go to Grandma's house in a couple of weeks. Or at least in time to go to Grandma Connie's house for Thanksgiving.

Check out the awards we've won OR see if your page qualifies for our award.
---
GREYHOUNDS! - Mama's page about retired racing Greyhounds in general. A good place to go for basic information if you're new to Greyhounds. It has links to a lot of resources.
Fosters and Adoptable Hounds - Mama and Daddy often foster Greyhounds (like Flint and Opie) in our home while they wait for families of their own. Please stop by and say hello to current and past residents, and get a better idea of what Mama and Daddy do (and why they do it).
Hound Mountain - Mama and Daddy make neat stuff for Greyhounds' humans.
Prayers for Pets - A bunch of nice humans that pray for all of us 4-leggers when we get sick or in trouble.
The Family Dog Page - More about all of us, including Maggie, Harry and Sam.
---