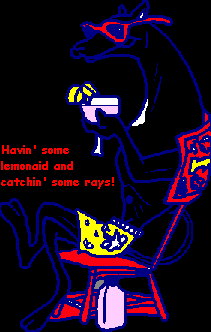 This page is lovingly dedicated to CJ...Cuthail Jet, our first Greyhound, dog of many names. His racing name was Guard My Angel. His kennel name was Shy Guy. They told us he was the shyest of his litter. But if he was, he got over it. He's one friendly dog! When he came to live with us, he didn't respond to any of his names, so we felt free to name him whatever we wanted. So we chose Cuthail Jet. Cuthail (pronounced "kool"), means "shy" in Irish Gaelic. CJ has a lot of Irish bloodlines, like his 2-legged Mama. And Jet is because he's black and he's fast. When we're feeling too lazy to explain it, we just spell it Cool Jet. And as you can see, he's Mr. Cool alright! He knows how to kick back!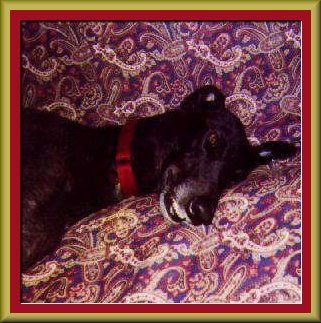 We fell in love with the Ceej monster on sight. By the day after we brought him home (March 31, 1997) we were trying to figure out how many Greyhounds could fit comfortably in our Blazer. So Greyhound #2 (Blarney) arrived on May 2, 1997...and Greyhound #3 (Cassidy - our first failure at fostering) arrived on Septemer 6...and Greyhound #4 (Giz) arrived on October 20...and Greyhound #5 (LB, CJ's littermate) arrived on April 23, 1998...and Greyhound #6 (Tony - another fostering failure) arrived on September 9, 1998...and Greyhound #7 (Monster - we blew fostering AGAIN!) arrived on January 10, 1999... and Willie, Greyhound #8 (Yep, another permanent "foster"), arrived on May 14, 1999! Meanwhile, we bought two racing pups that were born May 8, 1999, but they had careers to see to before they could come home with us. You can see the puppy pictures here. Then we adopted Elvis in September of '99. Our beautiful old Giz died in May of 2000, and we soon after failed fostering yet again when we decided to make AmberLiz permanent. Then came Slinky in August of 2000, and we thought that was it. Well, it was for almost a year. Then we fell in love with another senior gal and Back Hoe became part of the family in July of 2001. Then Giz's son Tipper unexpectedly came to live with us a couple of weeks later. And of course with 12 hounds in the house, one of our racing pups, Gabe, was injured and came home from the track. Just had to happen, y'know?
And there have been numerous real fosters who have passed through our home on their way to their new families. See what CJ started? I think you could call us obsessed. You can visit Blarney's homepage or Cassidy's homepage or Giz's homepage or LB's homepage or Tony's homepage or Monster's homepage. Obviously I have a lot of catching up to do on web pages. Caring for all these hounds (plus the adoption kennel we now have in our basement) doesn't leave a lot of time for building new pages. But I'm working on it.
By the way, we got a full sized van after Giz's arrival, but we soon needed a "fuller" sized van! Click here to see what we got. I don't think we'll grow out of this one anytime soon. I sure hope not!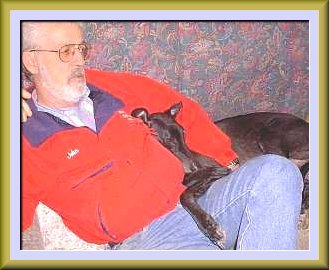 CJ started what promises to be a lifelong addiction. But who wouldn't fall in love with a guy like him? He's five years old now, retired early from racing because of an injury. Racing's loss, maybe, but definitely our gain! He's black, with a slash of white on his chest, and some white toes. He has the sweetest face. He's a very dignified dog...usually. But there's a ham lurking under the surface. He loves almost everybody, except for rowdy toddlers. He really likes older kids. His favorite things are LB (who happens to be his littermate), chasing his ball, snuggling with his Daddy on the couch, and eating. He'll eat just about anything that doesn't bite him first.
Wanna browse CJ's family photo album with lots of his Greyhound siblings and cousins (including a puppy pic of his litter)? Click here.
Wanna see CJ's nieces and nephews (including our Gabe and Mike) at the ages of 1 day, 6 days, 3 weeks and 8 weeks? Click here.
Wanna see CJ's pedigree? Click here.

---
---
Almost Heaven Greyhound Adoption - Our love for CJ and all Greyhounds inspired us to start an adoption group to help other retired racers find families of their own. Please stop by and say hello to current and past residents, and get a better idea of what we do (and why we do it).

Visit Blarney's Castle - our 2nd Greyhound and how he came to live with us. His transition from professional athlete to family member, told from his point of view.
Visit Cassidy's Cozy Corner - our 3rd Greyhound's own homepage.
Visit Giz's Page - our 4th Greyhound's homepage.
Visit LB's Black Dog Pub - our 5th Greyhound's homepage.
Visit Tony's Tail - our 6th Greyhound's homepage.
Visit the Monster Movie - our 7th Greyhound's homepage.
Visit Willie's page - coming soon.
Visit Elvis' page - coming soon.
Visit AmberLiz's page - coming soon.
Visit Slinky's page - coming soon.
Visit Back Hoe's page - coming soon.
Visit Tipper's page - coming soon.
Visit Gabe's page - coming soon.
Visit Mike's racing page - coming soon.
Visit the puppies! - CJ's nieces and nephews, born May 8, 1999.
Visit our GREYHOUNDS! page - about retired racing Greyhounds in general, you can go from there to the Greyhound Links page to find many more resources.
Visit Sam's page - our beloved Doberman who waits for us at the Rainbow Bridge.

- some nice folks who pray for sick or injured critters and their families.
Check out the Hound Mountain page! We make all kinds of neat stuff for Greyhound folks and 100% of the profit goes to support Almost Heaven Greyhound Adoption!
---
---
The author is
a member of


---
Last updated 08/26/2002 03:09 PM