Please be patient while the graphics load. We love our critters and just couldn't resist showing you some pictures.

Our Four-Legged Family

We're a family who just couldn't live without our dogs. At the moment the household includes Maggie-the-Mystery-Mutt, a 5-year-old female of undetermined ancestry (John calls her a Mystery Mutt, I call her a Carolina Terrorist [oops!] Terrier), Harry, a 17-year-old miniature poodle, CJ, Blarney, Cassidy, Giz and Tony, our retired racing Greyhounds, and LB, our active racing Greyhound.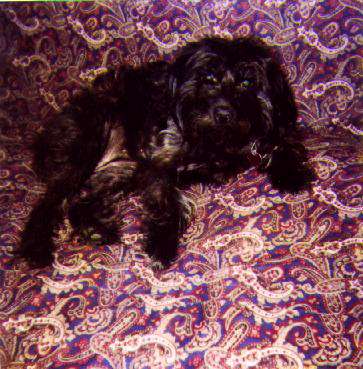 Maggie
---
Space reserved for
picture of Harry.
---
Sam (aka Shue's Suede Samson, or "Bubba" to the family) was our precious Doberman who left us in February of '97. He was a 120-pound fawn, and one of the most intelligent dogs I've ever known. There will never be another Sam. He was one of a kind.
Sam's page is now online.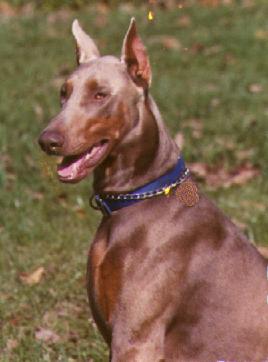 Shue's Suede
Samson
---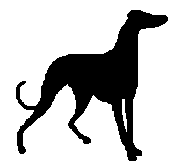 Since Sam left such a huge hole in our hearts and in our home, we decided to get another dog. Much as I adore Maggie and Harry, I'm just not me without a big dog around the house. But I felt that if we got another Doberman right now I would compare it to Sam, which wouldn't be fair to the dog or to me. So on 3/31/97 we adopted a retired racing Greyhound. A few years ago I learned about the plight of greys when they are retired from racing. Unless they are adopted, they are often destroyed, even though they're generally only 3-4 years old. Racing owners and trainers, track personnel and adoption groups are now working together (in most cases) to find homes for these dogs. Turns out they usually make wonderful pets. They're very intelligent and affectionate, and they're not the hyper dogs most people think they are. Even during their racing careers, they sleep most of the time (like most other dogs). And most are delighted to adjust to family life after they retire.
We fell so hard for CJ that we adopted another Greyhound on 5/2/97, so then we had CJ and Blarney. At that point we thought our family was complete again. But we brought Cassidy home, supposedly as a foster dog on 9/6/97 and after 10 days we realized we had fallen in love once again and had no intention of giving her up, so now we had three. But that still wasn't enough, I guess. Gizzy came to live with us on 10/21/97. Next, on 4/23/98 LB, CJ's litter mate, joined the family. He was originally supposed to be retired due to an injury, but he healed better than expected and went back to "work". The day we took him back to the track, we picked up hound #6, who was "supposed" to be a foster, but that didn't last long and Tony became an official member of the family on 9/23/98. Then came two fostering "failures", MONSTER on 1/10/99 and Willie on 5/14/99. And then on 9/15/99 we welcomed Elvis into the family. Nine Greyhounds and still counting! And we're nuts about all of them! Most of them each have their own homepage now. Click on the links at the bottom of the page. The other pages will be coming soon!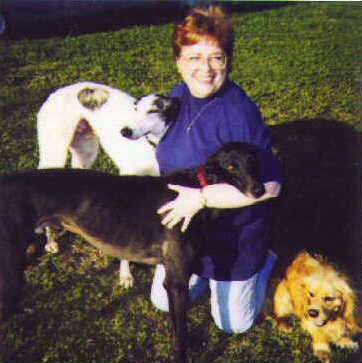 Me an' da boyz (CJ = black,
Blarney = white/brindle). The
blonde is my friend's dog,
Duke. (I'm the redhead)
---
Please read the lovely limerick written to CJ and Blarney by Connie Cassidy.

---
Special thanks to my wonderful sweet friend and cousin, Clarice Mills, who scanned all these pictures for me. We love you, Clarice!

---
Visit CJ's Page

Or Blarney's Page

Or Cassidy's Page

Or Giz's Page

Or LB's Page

Or Tony's Page

(Can you tell they're the love of my life?)
---
---
Get to know a few 4-legged Friends of the Family.
---
---
Visit Hound Mountain - Gifts and Goodies for Greyhound Lovers. Some of the proceeds from Hound Mountain go to help support Greyhound adoption efforts.
---
Check out the awards we've won OR see if your page qualifies for our award.
---