This page has several graphics and some animation. Please give it a minute to load.



Oooh, they sure look ferocious, don't they? But they're not! They're sweet, gentle, affectionate dogs, doing what they were born to do...RUN! Why are they muzzled? One reason is to keep them from nipping each other in the excitement of the chase. Most dogs of any breed may squabble a bit when they're after the same prey. Have you ever seen a bunch of grown men when they're trying to catch a baseball that's been hit into the stands? Same principle at work. Another reason is to keep the hounds from hurting their mouths if they should accidentally catch the mechanical lure. But the main reason for the muzzles is to make it easier to tell the winner in a close finish. All those needle noses crossing the finish line together can get confusing. By the way, you can chalk up the ferocious look to the fact that it takes a LOT of air to run 35+ mph, so they run with their mouths open. And some of them are undoubtedly grinning at the sheer joy of running!
What will become of these six beauties and their many "associates" when their careers racers are over? Well, a few of the best ones will go back to farms for breeding, but most will be looking for adoptive homes. Finding enough homes for these gentle beauties is a challenge for all adoption groups. Why? Largely because so many people don't yet realize what wonderful pets retired racers can be. But the breeders and trainers, while most of them love the dogs, are in business to make a living, and can't keep a lot of retired racers, other than breeding stock.
In the best situations (and there are many), breeders, trainers, track personnel, volunteer adoption groups and independent adoption reps work together to find homes for these wonderful dogs. Most tracks have their own adoption kennels. The National Greyhound Association, which is the sactioning body for Greyhound racing in North America, is also working to encourage the retirement and re-homing of hounds whose careers as racers are over as well as discouraging excess breeding. In a few situations the racing people and the adoption people are at odds with each other, which is sad because it's counter-productive.
Our primary goal is educating people about the wonders of Greyhounds as pets...no, make that family members! Our secondary goal is helping to bridge the gap between racing people and adoption people so that they can work together to find homes for these GREYt dogs.
Much work needs to be done in this area. As long as some Greyhound adoption groups continue to bash racing, they will never earn the trust of the people who control the fates of their dogs. Without this trust, some owners and breeders are understandably unwilling to release their dogs into the hands of any adoption group. In some cases, it's the dogs who pay the price for the ego-driven agendas of these groups. Worse, these groups don't even seem to care that they're losing the lives of dogs as long as they get to say their piece. They say things like "Why should we cooperate? They're wrong and we're right!" Why should they cooperate? Because the dogs don't care who is wrong and who is right. They just want (and deserve!) to live. If you decide to adopt a Greyhound, PLEASE adopt from a group or individual that is neutral or supports racing.
If you are against Greyhound racing, especially if you are vocal about it, please give some thought to the reasons why you feel that way. Are you basing your opinion on your own experience, or are you going by what you've heard from other people? Are you repeating these things without bothering to find out for yourself if they're really true? Please don't believe everything you hear about racing. A huge amount of it is false rumors, exaggerations, outdated statistics and just plain lies spread by people who would like to see Greyhound racing outlawed without even really knowing why. Some of the stories are so ludicrous that you wouldn't think anyone would believe them, yet people do believe them and continue to spread them. Even the media does it because unfortunately some of them don't bother to verify their "facts" anymore. They just want sensationalism because it "sells". So please, before you tell everybody you see why Greyhound racing should be banned, make sure you know what you're talking about. No, it isn't a perfect sport, and this isn't a perfect world. There are things that still need to be changed and improved. But the people in the racing business have made great strides in improving the welfare of the dogs, and they're still working at it every day.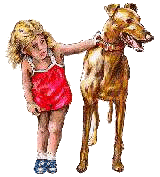 If you are considering adopting a dog, please consider a retired racer. You will be rewarded with years of unconditional love. There are many Greyhound adoption groups across the United States who would be happy to help you. I highly recommend doing as much research as you can before you make a decision to apply for a Grey. There are many many excellent web sites dedicated to educating you to the charms, as well as the needs of Greyhounds. Don't worry, Greyhounds don't need a lot of fancy care, but they do have some rather unique requirements for their own safety, and any adoption group that is worthy of the name will make sure that you are aware of these and committed to caring for the dog properly before they will release a Greyhound to you.
---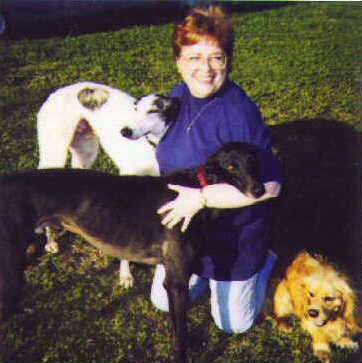 Do these guys look ferocious? I hope not, they're our own first two babies, CJ (the black one) raced at Tri-State as Guard My Angel, and Blarney (the white/brindle) raced at Tri-State as Craigie Alan. (Links to their homepages below.) The Cocker Spaniel is my friend's dog, Duke. Ceej-monster is seven now (11/01) and Blarnaroo will turn seven in January. They have been with us since March and May of '97, respectively. Blarney just came off the track about 8 days before this picture was taken. They were both two years old then. CJ's racing career was ended by an injury about six months before we got him. They love their Mom and Dad, each other, the rest of the family dogs... and everybody else they meet. They even put up with Duke's peskiness with good humor. Just about everybody who meets them wants a Greyhound of his or her own, and starts asking questions about adoption...once they find out they can't get us to part with ours. Our guys are excellent "ambassadogs", and now spend some of their spare time trying to help find homes for their old kennel-mates. Needless to say, our dogs are our pride and joy. One of my friends said I looked like a kid on Christmas morning in this picture. Y'know that's exactly the way my dogs make me feel? We hope you'll visit CJ's Hangout and Blarney's Castle and get to know them a little better.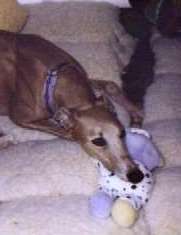 This is Cassidy (raced at Wheeling Downs and Tri-State as Ion Mrs. Chips), our third Greyhound who joined us in September of '97. She turned 8 in April of 2001, after racing until she was 4 1/2. Not a bad career! She's such a sweetheart! And such a rascal, too! She steals toys (and often anything else within her reach) with the delicate touch of a professional pickpocket. But when she gets busted she turns "those eyes" on us and always seems to wiggle out of whatever trouble she's gotten herself into. Her brothers love her dearly. CJ is her romping buddy when they're outside. Blarney is her cuddling partner when they're in the house. We got Cassidy as a foster, intending to keep her for Greyhound Pets of America until we could find a home for her. Ha! After a few days there was no question that she'd already found her home right here with us. Check out Cassidy's Cozy Corner.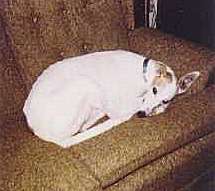 Next to join our family was Giz (raced as Lizabon). She was a retired brood matron who came to live with us in October of '97. We don't have an official portrait of her but she does have her own homepage with pictures of some of her grandpuppies. Giz was such a sweetheart! After 11 years of living in breeding, training and racing kennels, she fit right into homelife with the other hounds. She ruled our home until she was almost 14. Her web page is called Lizabon.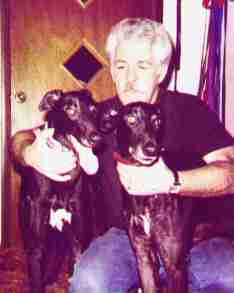 Greyhound #5 arrived 4/23/98. His name is Lover Boy (raced asTrackside Angel), and he's CJ's litter mate. We call him LB, but Lover Boy really suits him. He loves to snuggle and smooch. He was an excellent racer and is extremely well bred. That's him, John and CJ in the picture on the right. Though he's not officially adopted, but belongs to my friend, LB quickly became part of the family and my heart hound.
On 9/9/98 LB went back to Tri-State to resume his racing career. His injury healed up better than expected, and he had been so good that his trainer/owner wanted to give him another shot. On 10/4/98 LB ran his first morning schooling race. He was hand-slipped just a bit behind the other dogs, but he dusted his competition, showing he still had speed and determination. Unfortunately, he pulled a toe ligament on that run. While this was a minor injury, at his age it could have led to more serious injuries, so Loretta, who loves him as much as I do, decided to retire him again. We were all disappointed, most of all LB. He was SO happy being back at the track with Loretta and getting to "run with the big dogs" again. And I had really been looking forward to seeing my baby race. But we missed him an awful lot while he was gone, so we were glad to have him back home with us. Now he's just a house hound and a hopeful father-to-be. Meet him on LB's page.
Meanwhile, the potato chip syndrome struck again! The day we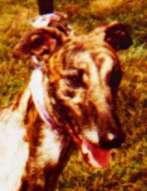 took LB back to Tri-State, we picked up another hound that was to be a foster. Yeah right! We did try to find a home for him for a little while (we REALLY did!), even though Greg's Redwing and John developed a strong bond almost instantly. But when the family that was considering adopting him decided to wait a while, John decided Redwing wasn't going anywhere. On 9/23 the red brindle Redwing became Tony (as in Tony the Tiger-striped Greyhound), our sixth hound.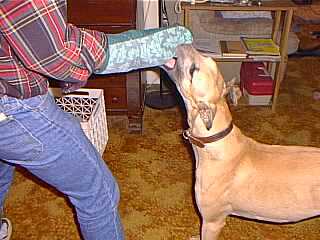 Well, wouldn't you just know it! Here we thought an even six-pack was enough, but nooooo! In January of 1999 we took in three fosters. A month later two of them went home with their new Mama to Michigan. The third one? Well, we realized this pup had chomped down on our hearts (among other things) just too hard to let him go, so MONSTER (alias Native Nate) became Shue Hound #7. Go see the Monster Movie if you want to get to know our little demon!
HELP!!! We just can't stop!!! On May 8, 1999, CJ and LB's littermate, Sweetie, gave birth to five puppies. Two of these little furballs (the two black males) grew up to become our first racing dogs. But they're "family" so we sorta claim them all. Visit the puppy pages to meet Mike (CJ's Angel Buns), Gabe (Gotta B An Angel) and their littermates. They've all begun their careers now, and while we miss the little fuzzballs they used to be, it's thrilling to watch them run now (and even more fun when they win!) And they all have homes waiting when they're through racing. Of course Mike and Gabe will come home with us. Even though they live in the racing kennel right now, they're already almost as spoiled as our house hounds. They're doing well at the track, and their purse checks are supporting our adoption program. High time I make them pages of their own. Watch for them!
Update: Gabe broke a hock in July 2001 and has come home to live with us. As predicted, he's totally rotten! I miss watching him race because he was a thriller that would make you hold your breath to see if he'd pull off yet another come-from-behind victory. But I remember cuddling him when he was a tiny baby and dreaming of the day he would come home to our couch. That's where he is now, with his hock totally healed, so the dream came true. Meanwhile, as of 11/01, Mike is still racing successfully.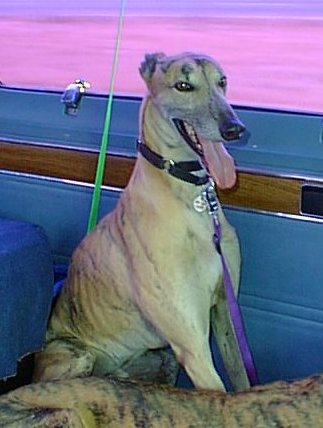 Oops! We did it again. On May 14, 1999 we picked up another foster. You guessed it. Brazocalicowill (Willie) became #8. He doesn't have a web page yet, but he will soon. But he's a beautiful brindle guy with the sweetest, most easy-going personality you ever met. He needs his own web page, too. He's just so quiet and easy to have around that he doesn't give me much to write about.
So now we have a full eight-pack. I think we need a bigger van. I KNOW we need a bigger house!
Okay, so we got a bigger van... sorta. Click here to see the ultimate hound-mobile. And we're looking for a bigger house and land. Closer to the track, of course!
Well, we found it. In September 1999 we move into our new home, just 2.5 miles from the track. Lots more room for hounds! Uh-oh...... <grin>
Uh-oh is right! We moved the last day in August, 2000 and on September 15 we went to Michigan to bring home #9. He's a beautiful blue boy whose racing name was RK's Fireblue, and whose original pet name was Vladimir. But my Irish mouth had trouble with that Russian name, so we gave him another name - Blue Suede Shue - and call him Elvis. He's the biggest love sponge I've ever met! Elvis doesn't have his own web page yet, either, but he will as soon as I get time.
Since our new place is much bigger, we turned part of the basement into an adoption kennel and Almost Heaven Greyhound Adoption was born. Now there are 17 hounds downstairs awaiting placement.
Sadly, on May 4, 2000, our sweet old gal, Gizzy, went to the Rainbow Bridge. We miss her more than we can express, but now she's young and healthy again. In her honor, we adopted our tenth Greyhound, a beautiful little black brindle gal who raced in Florida as Outlaw Amber. We modified her call name to AmberLiz (sometimes just called Lizzy) after Lizabon, our Giz. AmberLiz is a hoot! She has tons of personality to match her beauty. She's MONSTER's partner in crime and Cassidy's understudy.
In August of 2000, Slinky came to live with us, so now we're up to 10 house hounds. She raced in Florida and at Mobile as Iruska Aquarius. She's a red brindle with the prettiest swirly face you ever saw. In October, 2000 Slinky and LB got "married" on the beach at Dewey. Pictures will be posted when I have time. Slinky's ownership has been transferred to me and in the spring of 2002 she will be bred to LB. Meanwhile, I'll be building Slink's web page, and hope to have a "puppy cam" set up when the babies arrive.
We managed to hold the line at 10 house hounds for almost a year, believe it or not. But then a very special "old" gal came into our adoption program in June '01. A nine year old retired Mama Dog, her name is Back Hoe. She's a BIG black brindle gal with a white "grandma face" who weighs in at 75 lbs. But don't try telling HER she's supposed to be a senior! She romps and plays like a pup. We resisted for as long as we could, but Hoe became #11.
And as luck would have it, Gabe broke his leg just a few days later and became house hound #12. And a week or so after that we found out that Tipper, son of our own beloved Giz, was in need of a home because his first adopter couldn't take him with her when she moved. So Tip was shipped to us from Kansas to become our lucky #13. Bless his heart, he's a clone of his Mom! Only about half again her size. Tipper is a former stakes winner and sired a few litters of puppies before he was retired to the couch. He's 8 years old now (11/01), and enjoys the good life quietly. Not because 8 is old, but because that's just his nature. We loved him from the start because he's so much like his Mom, but now we love him for himself.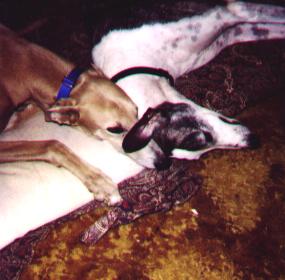 Cassidy and Blarney...two
obviously vicious beasts! NOT!
I used to say that everybody should have a Greyhound, but I've changed my mind. Greyhounds should only adopt special people. Nobody who has ever uttered the words "It's just a dog" about any dog should be honored by the presence of a Greyhound in his/her life. Are my husband and I special? You bet we are! We're loved by two three four five six seven eight nine ten eleven twelve fourteen Greyhounds! And boy, do I have a lot of web pages to build! Yes, it's chaotic around here a lot of the time (especially with up to 17 more dogs downstairs in the adoption kennel), and I would NEVER recommend to anyone that they have near this many Greyhounds in their home, though I do know a few other people who successfully share homes with 10 or more. But it works for us. We're here with them nearly all the time and they're healthy and happy. And it just goes to show how easy it is to live with Greyhounds. I can't imagine living with this many of any other breed!
E-mail us if you have questions you'd like to ask about Greyhounds. If we can't answer them, we'll find someone who can. We aren't experts by any means, but we have many friends who are.
---
If you don't hear music, you probably don't have


.
Click on the logo to download it free.
---
Check out the awards we've won or See if your page qualifies for our award.
---
Race

to our Greyhound Links page and visit a few of these web sites, or follow the Greyhound Ring (below) to the next site. Learn a little about Greyhounds. You'll find yourself getting hooked, too! On the links page you'll find all kinds of sites: personal pages, general information pages, places to buy Greyhound goodies, and even a site with instructions for making things.
---
Our related pages:

- a group of believers who say special prayers for sick, injured or lost pets and for the people who love those pets.
Almost Heaven Greyhound Adoption - We often fostered Greyhounds in our home while they waited for families of their own. Once we moved closer to the "source" and into a larger place, we expanded our efforts. Please stop by and say hello to current and past residents, and get a better idea of what we do (and why we do it).
CJ's Hangout - the homepage of our first Greyhound, Cool Jet (alias The Kissing Bandit!) Get to know my "Panther Man" and meet his "fiancee" and some of his blood relatives.
Blarney's Castle - the homepage of our second Greyhound, Blarney. Meet Blarnaroo's "fiancee" and see pictures of him (including one from the Greyhound Review, of which we are ridiculously proud!)
Cassidy's Cozy Corner - the homepage of our third Greyhound, Cassidy. Check out the hat picture!
Giz's Page - the homepage of our sweet old matron Greyhound. See her grandpuppies!
LB's Black Dog Pub - the homepage of our active racing Greyhound, LoverBoy!
Tony's Tail - the temporary homepage of Greyhound #6, Tony the Tiger!
Monster Movie - the homepage of our little beast, Monster (or Ellis of Munster), Greyhound #7. I swear, this is the LAST one! ...for a while.
PUPPIES!!!!! - CJ and LB's brand new nieces and nephews, born 5/8/99. See our puppies at ages 1 day, 6 days, 3 weeks and 8 weeks.
Our 4-Legged Family - meet the rest of our family dogs. They're not Greyhounds, but they're wonderful dogs nevertheless.
Check out the Hound Mountain site! We make some neat stuff for Greyhound folks and all of the profit goes to Greyhound adoption!
---
---
---