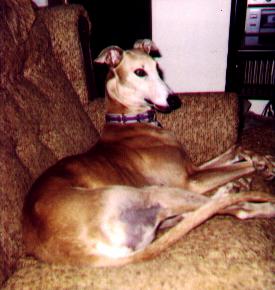 This is me, Cassidy Shue,
formerly known as
Ion Mrs. Chips.
Hi there! I'm Cassidy, formerly known as Ion Mrs. Chips, Mama and Daddy's third Greyhound. I came to live with them on September 6, 1997, supposedly as a "foster dog". Ha! Famous last words!
My name changed on the night they decided to keep me. I'm named after their dear friend, my cyber Grandma, Connie Cassidy, and the Cassidy Clan. The Clan is Connie's group of "adopted" kids, all of whom have and love Greyhounds. Mom says that since she's been a part of this wonderful family, life has been so full of laughter and sharing that she knew her next hound was going to be named Cassidy even before she got me. By the way, there's a Cassidy Clan page now! Right here! It has pictures of lots of us, humans and hounds. We really are a Greyhound clan. Over 50 hounds and we gave up counting!
I got to meet a lot of my Cassidy Clan family when Mom and Dad took me and my brothers to Chicago for a big Greyhound picnic. That was a blast! There were so many nice dogs there, and lots and lots of nice humans. Of course, they all thought I was beautiful... these people really know their Greyhounds! I guess I'm sorta the family mascot because of my name. In November we all went back to Grandma Connie's for a big dinner. That was a blast, too! There were 16 Greyhounds there for dinner, and a huge mirror in Grandma's dance studio for me to admire myself in. My sisters and brothers and I love to travel. Good thing, huh? Anytime we see the side door on the van open, we're all ready to hop in and see where we end up.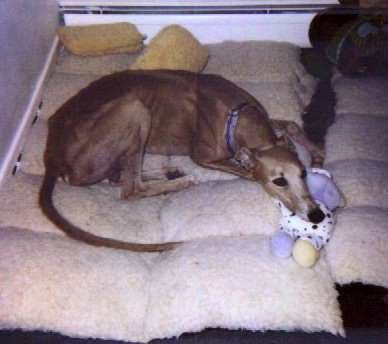 This is me resting up at Uncle Marc's
house after a big day at a
Greyhound picnic.
I'm a very young 8 ("senior dog"? My Aunt Fanny!), whelped April 7, 1993 in Ohio. My family (or what we know of it so far) is:
| | | | | |
| --- | --- | --- | --- | --- |
| | | | | Big Whizzer |
| | | | Downing | Hooker's Flower |
| | | Barry Lyndon | | |
| | | | | Blue Betsy | Top Speed |
| | | | | | Miss Blue |
| | Rancho Chip | | | |
| | | | | | | Master Mover |
| | | | | | Bart Mover | Hinky Venture |
| | | | Wise Linda | | |
| | | | | Katy Did | Tell Tom |
| | | | | | Classy Clema |
| Ion Mrs. Chips | | | | |
| | | | | | Trap Rock |
| | | | | Hairless Joe | Kahana |
| | | | Dutch Bahama | | |
| | | | | | Dutch Debit | Woodward |
| | | | | | | Dutch Discreet |
| | Dutch Juanita | | | |
| | | | | | Western Ghost |
| | | | | Orobas | Ultra Elegant |
| | | Dutch Damsel | | |
| | | | Dutch Empress | |
There are two Hall of Famers in my family, Downing and Dutch Bahama. You can click on their names to visit their Hall of Fame sites and see their pictures. In fact here's a picture of Grandpa. I got my eyes from him!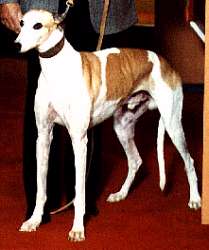 Dutch Bahama
Want to see Grandpa's
stud advertisement?

Click here
.
I raced as Ion Mrs. Chips until August 1997 at Wheeling Downs in Wheeling WV, then retired at the age of 4 1/2, which is a fairly long career. When I retired I went to the track's adoption kennel, run by Greyhound Pets of America. Mom and Dad were volunteers for GPA at the time, and on a visit to the track they met me and decided to bring me home to foster until they could find me a home. After about 10 days they knew they had found the perfect home for me ... theirs! They just couldn't bear to part with me! Hee! I knew that all along! So did everybody else. I think even Mom and Dad knew it, they just wouldn't admit it for a while.
My two brothers, CJ and Blarney (they're retired racers, too), and I fell in love the minute I pranced in the door. Mama and Daddy could hardly believe I'd been in a kennel all my life. Nothing about the house intimidated or confused me. I thought it was pretty cool and made myself right at home, even making friends with the two small dogs. I had to teach Harry not to jump on me when I was asleep, but that's the only problem I've had so far. I immediately zeroed in on the sofa as one of the choice napping spots, and persuaded CJ and Blarney to share their beds with me, too. I discovered the big bed right away, too. When Daddy gets up in the mornings I love to cuddle up next to Mama for a while.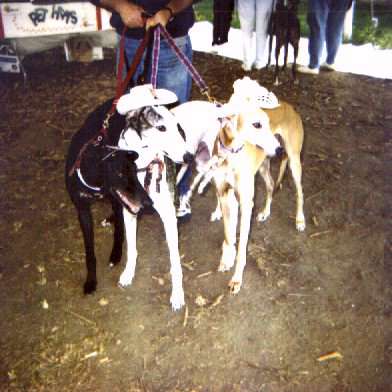 This is my brothers (CJ & Blarney)
and me modeling the new hats Mama
got us at the picnic in Chicago. CJ
got a black leather biker cap and
Blarney got a cowboy hat (he's from
Oklahoma, y'know). I think they look
kinda silly, but I'm rather, um, fetching
in my new bonnet, don't you agree?
Daddy says I'm Miss Personality Plus. Half angel and half monster. Half doe and half Tasmanian Devil. I haven't done anything really bad, but if my big Egyptian eyes are open, there's usually mischief in them. My favorite game is stealing toys. I have the delicate touch of a professional pickpocket and can have whatever I want spirited away before anybody even knows I've been around. But I give myself away every time by leaping and playing with my newly purloined booty.
My second favorite game is pouncing on my brother Blarney. We like to wrestle and chase each other. He's way bigger than me, but I'm faster. My new baby brother Monster is pretty good for this game, too.
Good thing there's not a cat around our house. When I went to visit Grandma Connie, I thought her cat looked like lots of fun. But they wouldn't let me catch her. RATS! That would have made my whole weekend! A lot of Greyhounds are "cat-safe", but I'm not. At least not yet. But Mama and Daddy don't "do" cats, so it's not really an issue for us.
Sometimes I get tired of playing and want some attention. LOTS of attention! Then, as soon as I've shoved my much bigger brothers out of the way, my big eyes turn soft and sweet and melt Mama and Daddy. I'm a pro at handling my brothers (and my parents!)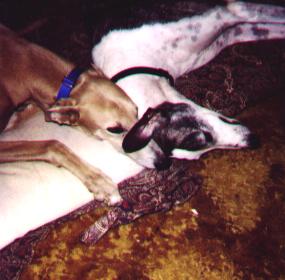 This is Blarney and me snuggling up
for a nice nap. He's a good snuggler.
About six weeks after I got here, I got a new sister. She was my aunt by blood, and became my sister by adoption. And she was Uncle Ron's dog and had some nice babies for him before she came here, so she was already a Cassidy Clan hound. In fact Mama says she really belonged to the whole clan, but she spent the rest of her life with us. She's the daughter of my Grandpa, Dutch Bahama, and her name was Lizabon, but we called her Giz. She was nice, but a bit too quiet for my taste. Still, when she died in 2000, at almost 14 years old, we all missed her.
Now I have more brothers and sisters. The first one's name is LoverBoy, but everybody calls him LB. He's CJ's littermate and he looks just like him. He got here in April of '98, and it didn't take long to figure out who my new partner in crime would be. He's as devilish as I am! He went back to the racetrack to try racing again for a while. I sure did miss him! Now he's back and we're back in business.
Brother number 4 is Tony. He started out here as a foster in September '98. But like with me, Mama and Daddy couldn't let go, so now he's family. He's pretty cool!
Brother number 5 is MONSTER. He came in January '99. He was supposed to be a foster, too. I didn't like him at first, but now that I've gotten to know him, he's a hoot!
Brother number 6 is Willie. He came in May '99. Another foster that never left. But he's such a nice guy, and loads of fun to play with, so I'm glad he stayed. Willie and MONSTER are my two partners in crime.
Brother number 7 is Elvis. He got here in September of '99. He *thinks* he's the prettiest Greyhound because he's blue. But we all know I'm the real beauty around here. Elvis is okay, though, now that he's learning about living in a family. I guess I'll let him stay.
My next sister is AmberLiz. She was a foster with our family, but when Gizzy died in May of 2000, Daddy talked Mama into keeping her. She's pretty cool.
Then another sister arrived in August of 2000. Her name is Slinky. She and LB got married, and the story is that she's going to have puppies sooner or later. None so far, though. Just as well. They'd probably expect me to babysit. No way!
Then yet another sister arrived in June of 2001. She started out in the adoption kennel in our basement, but somehow or other she weaseled her way upstairs to join the family. Her name is Hoe, and she's a year older than me. She's had puppies before, so she's kinda bossy. I have to keep reminding her that I'm the queen around here. But she's okay.
Then my baby brother arrived. His name is Gabe and he was 2 when he got here in August of 2001. He was one of Mama's racing dogs, but he broke his leg and had to come home. Mama and Daddy have known him since he was a baby, but the rest of us just met him when he came home. He's pretty nice. He doesn't cause as much trouble as I expected he would being so young.
Right after Gabe got here, my newest brother, Tipper, got here. He's also my cousin. Our Gizzy was his mother and he looks just like her. It's kind of nice having him around, almost like having Giz back. He's about a month older than I am, but much quieter. Mama says she wishes I had his good manners.
Sometimes other foster dogs come to stay for a while, too. Most of the ones waiting for homes stay in the kennel downstairs, but sometimes they visit upstairs with us. That can be fun, but they always leave just when I'm about to teach 'em my best tricks. Phooey! Mama says she wants to keep all of them, but we'd have to live on a farm for that. I don't know about that...seems to me like there's plenty of room here. There are thirteen Greyhounds so far and I can still see pieces of empty floor. But that's because we're all usually on the couch and the bed!
I've been here a good while now and my family and friends love me, as does everyone else who meets me. I'm just such a charmer! (Not to mention ever so slightly conceited!) And I'm a beautiful and unusual shade of blue fawn. Too bad the blue doesn't show in my pictures. See the picture of me at the top of the page? See where I had lost some of the hair on my hiney? Mama calls that "track butt". But most of the hair has grown back in now.
Mama and Daddy love all of us Greyhounds dearly, which is why they try to help find homes for the many wonderful dogs who retire from racing every year. They've both had dogs of various breeds all their lives, but now that they've had Greyhounds, they say there's just no other breed for them. I could have told them that!
NEWS FLASH! I found my first online sister! She's really my half-sister. Our 4-legged Daddy is Rancho Chip. Here's her picture. Isn't she beautiful?
Krissy belongs to
Kathleen
, who has more
pictures of my gorgeous sister. If your
hound is kin to Krissy, I bet Kathleen
would love to hear from you.
---
Here's the limerick my Deda Connie wrote for me...
Kate and John thought two hounds were just fine,
John loved Ceej, Kate said, "Blarney is mine".
Then they went to the track,
and a foster brought back,
And I think that her name was a sign.
Mrs *Chips* was at home from the first,
And she showed them her best and her worst.
She was angel and devil,
They tried to stay level,
But knew the Foster bubble had burst.
So now they had hound number three,
And a beautiful female was she.
With those dark kohl rimmed eyes,
She elicited sighs,
They announced she was now Cassidy.
So a cheer went up all around,
And love from the Clan did abound.
The family knew
That this new little Shue
Had the very best home to be found.
(This is just an addendum..sometimes I can't stop..)
With much love to my namesake I write,
And though I can't hug her each night,
I think of her always.
With all of her sly ways,
She's stolen my heartstrings, alright.
GOM (Good Ol' Mom)

Check out the awards we've won OR see if your page qualifies for our award.
---
Almost Heaven Greyhound Adoption - Mama and Daddy belong to this new adoption group, and the adoption kennel is at our house! I love having so many foster brothers and sisters! Please stop by and say hello to current and past residents, and get a better idea of what they do (and why they do it).
Visit my brother CJ's page - CJ's Hangout is my favorite night spot!
Visit my brother Blarney's page - Blarney's Castle is his own story.
Visit my sister Giz's page - The Official Cassidy Clan Hound!
Visit my brother LB's page - He's my racing brother, and he's CJ's littermate.
Visit my brother Tony's page - He's my smartest brother!
Visit my baby brother Monster's page - He's the newest!
Meet the rest of the Cassidy Clan - The whole family!
Meet the rest of the family dogs - Brother Harry and sister Maggie.
Visit Mama's Greyhounds! page - All about retired racers, and how wonderful we are!

Visit the Prayers for Pets page - a nice bunch of humans who pray for us critters if we get sick or hurt or lost.
Check out the Hound Mountain page! We make all kinds of neat stuff for Greyhound folks and part of the money goes to Almost Heaven Greyhound Adoption!
---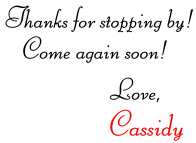 ---