The Guardian Angel Award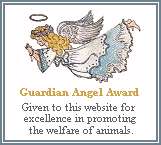 This award is given to websites that exhibit a particularly caring attitude about the health, happiness and general welfare of animals. The recipient site must not only show the page owner's interest in animal welfare, but must also actively do something to help toward that end. Please see the qualifications below.
The name of this award was chosen in honor of a retired racing Greyhound named Guard My Angel, now known to family and friends as CJ. He was adopted in March 1997 after his retirement from racing. CJ may be retired from racing, but he still works. He is a super ambassadog for the Greyhound adoption movement. He tirelessly and happily marches in parades, attends adoption events and spends a lot of time in public, showing people what wonderful pets retired racers can be. He's kind, gentle, loving and beautiful. His sweet nature has been single-handedly responsible for the adoptions of some of his fellow retirees. The world would be much nicer if more people were more like CJ.
---
Qualifications for the Guardian Angel Award:
1. The website must exhibit a deep caring for the welfare of animals. This may be species specific or even breed specific, or may encompass all animals.
2. Further, the website must actively do something to help toward ensuring the welfare of animals. Examples: Fund raising, practical information (medical, etc.), help for pet owners, etc. Links to helpful pages aren't enough. Your own page should supply information that leads directly to better lives for animals. A few examples of this are:
Listing of animals that are available for adoption (showing their pictures is even better).
First aid information for pet owners.
Fund-raising for shelters and other non-profit animal welfare groups.
Suggestions for volunteerism - a sort of what-you-can-do-to-help page.
3. The site must use a positive, honest, non-inflammatory approach. Publication of misleading information, distorted or outdated statistics, etc. will be considered a disqualification.
4. The site may be owned by an individual or a non-profit organization. Commercial sites will not be considered.
5. If you accept the award, you must link the graphic on your page back to this site. See the note below.
6. Last, but not least, we have to like the site and enjoy our visit! Ease of navigation is important (and frames aren't on our list of favorite things, though they won't automatically disqualify your page). Before you apply, it's a good idea to check for links and graphics that don't work properly.
NOTE: We occasionally revisit these sites. If our award criteria are no longer met, we will remove your link from this page and ask you to remove our graphic from yours.
---
If you know of a site that you believe deserves a Guardian Angel Award, we encourage you to submit your nomination. We will visit the site and make our decision as soon as possible, but we make no promises as to how soon it might be. Sometimes we're just too busy to get to it right away. Once we visit the site, if we decide to offer an award,

the offer will be sent to the page owner with the award graphic attached. If we decide not to offer an award, we will probably just ignore it. We're not here to insult anybody, so we will not send "rejection notices". However, if the site you recommend does not show the award within a couple of weeks, feel free to email us again. It might have gotten lost in the shuffle. To submit your nomination, click on the mail dog. Be sure to include the following information:
1. The TITLE of the site.
2. The URL of the site.
3. Is the site about cats, dogs, horses, birds, other pets, wild animals, animals in general, etc. ?
4. A short description of the site, including why you believe it meets our qualifications.
5. If the section of the site that qualifies it is on other than the main page, please point us to it.
6. YOUR NAME.
7. Do you own the site?
8. If not, do you maintain the site?
Hint: an easy way to make sure you include all the necessary information is to copy/paste Numbers 1-8 above to your email message, then answer each question.
---
Please Visit Our Winners:
---
Visit CJ's Own Homepage - meet the hound the award is named for.
Visit his mom's Greyhound Adoption Page
---
---

---
The author is
a member of

---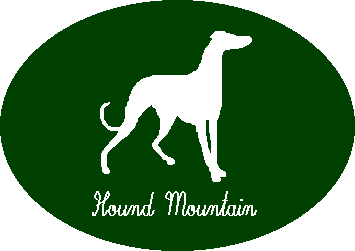 The Guardian Angel Award is proudly sponsored by Hound Mountain.
© Hound Mountain WebCraft 1997, 1998

---