CJ's & LB's Family
The puppies of Oshkosh Racey and Penalty Pass
born August 14, 1994.
With Angel Wings
aka "Yapper"
Racy's Angel
aka "Bug Eye"
Angel At My Door
aka "Droopy"
My Sweet Angel
aka "Sweetie Girl"
*Trackside Angel*
aka "Lover Boy"
akd "LB"
*Guard My Angel*
aka "Shy Guy"
aka "CJ"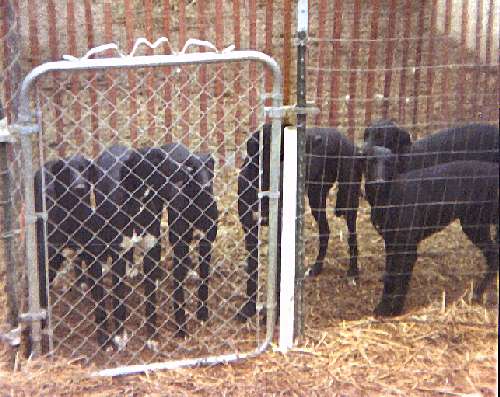 This is CJ's entire litter, born August 14, 1994. This picture was taken when the pups were
4-1/2 months old. The other pups are his only brother, Trackside Angel ("Lover Boy"), and
his sisters, Racey's Angel ("Bug Eye"), Angel At My Door ("Drupie"), With Angel Wings
("Yapper") and My Sweet Angel ("Sweetie Girl"). The best I can figure out, they are
L-R: Bug Eye, Sweetie Girl, Yapper, LoverBoy (hiding behind the gate - the one and only
bashful moment of his entire life!), Drupie, and CJ. All six have retired from racing now.
They belonged to and were trained by Loretta Thompson for A Ray Kennels at Tri-State
Greyhound Park in Cross Lanes WV. In addition to CJ and LB, Yapper and Drupie have
also been adopted. Loretta still has Bug Eye and Sweetie, who are in the motherhood
business now. See Sweetie's beautiful first litter of puppies
here
.
B

CJ and his 4-legged Mama,
Penalty Pass. That's CJ's
Daddy (the 2-legged variety)
holding them. Taken 11/97,
Penalty Pass was 12 years
old and CJ was 3. Penalty
Pass is retired to the sofa
now. She belongs to CJ's
breeder, Loretta Thompson
of Cross Lanes WV.
Update 2/99 - Penalty Pass
went to the Rainbow Bridge
on Saturday, February 6,
1999 at the age of 13. Fly
with the wind, Mama Girl!
We miss you.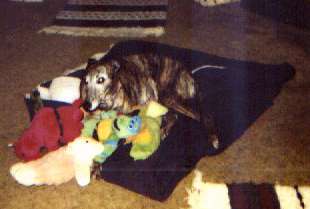 Penalty Pass demonstrating proper retirement
technique. Her kids all wish they had so many toys!
My Sweet Angel (Sweetie
Girl) with John at the
track kennel. Her name
fits her. She's a real
sweetheart! And speedy,
too. It looks like it will
be a while before we
start looking for a
retirement home for her.
Update: Sweetie has
retired from racing and
gone on to motherhood.
See Sweetie's puppies!
This is With Angel Wings,
otherwise known as
"Yapper". She was kind
of a vocal puppy, but
she's quieter now. She has
just retired in April 98 and
gone to her new home.
This is Angel At My Door,
aka "Drupie" because she
has one ear that droops.
She has now retired and
gone to live with her new
family, the Thompsons, in
St. Joseph MI. They call
her "Angel".
This is Lover Boy, racing
name Trackside Angel. He's
the real charmer in the
family. And he just joined our
family in April 98! Check out
his homepage.
There isn't a picture of Racy's Angel ("Bug") available yet. She was at the farm in Oklahoma when most of these pictures were taken 11/15/97. But we'll correct that as soon as possible. There is a really goofy picture of Bug on the pages with Sweetie's puppies. I promise to take a better one next time I'm there.