GREYHOUND
UNDERGROUND
RAILROAD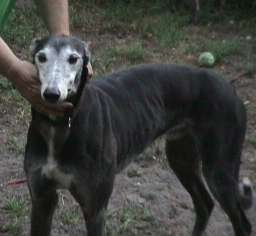 Grant
Hitchhikers: 1 elderly Greyhound, Grant. Rescued from animal shelter.
Starting point: Sarasota FL
Destination: Raleigh NC
Target date: August 7-9
Please see the suggested route table below the map. If you can take a leg (or two), please email Kate. The route that fills up first will be the route we use.
NOTE: If you contacted me about participating in this run last weekend, and are still available, please contact me again to confirm.
Map courtesy of MapBlast
If you can drive farther than the distance indicated in one leg, please specify how far you can go. Please keep in mind that these are "suggested" routes, and changes can be made to accomodate the volunteers who come forward. The tables will be kept updated as legs are filled or changed. As legs are filled I encourage volunteers to contact each other to arrange meeting points and times, and make sure you notify me of your plans.
NOTE: if, for whatever reason, you prefer not to have your email address linked on these tables, or if you would rather not even have your name posted, please let me know and I will simply insert "covered" in the appropriate box. The idea here is simply to make it easier for connecting legs to contact each other about meeting places and times.
NOTE - Email addresses of runners have been removed. If you need the address of one of your contacts, email me and I'll send it to you.
Possible Route A - via Jacksonville FL, Florence SC, Fayetteville NC COMPLETE!!
Leg
To - from
Approx.
Miles
Approx.
Hours
ETA
Sugg.
Route
Volunteer
Date
Avail.
1
Sarasota FL to Orlando FL
129
2.2
9:00A
I-75,
I-4
Peg Murphy
8/8
2
Orlando to Jacksonville FL
148
2.5
12:30P
I-4
Patti Trakney
8/8
3
Jacksonville to Savannah GA
144
2.5
I-95
Larry/Karen Taylor
4
Savannah to Santee SC
116
2
I-95
Mary Lee Peabody
5
Santee to Raleigh NC
226
3.7
I-95,
I-40
Robbin Wiseman
8/8 or 8/9
Total
Sarasota FL to Raleigh NC
763
12.9*
-------
A lot of
wonderful
people!
Mission Accomplished!
Thanks, everybody!
* Total driving time only. Potty stops, meal stops and transfer times between runners have not been factored in.
OTHER GUR RUNS
See where we've been and sometimes see pictures of our passengers along the way and/or with their new families.
GUR Unofficial Homepage - what we do and why we do it.
Tambourine and Apollo - St. Louis MO to Port Allegany PA - Aug. 8-9, 1998
Decoy - Goffstown NH to Durham NC - Sep. 12, 1998
Keeley - Belington WV to St. Louis MO - Nov. 7, 1998
Gabbi - Tupelo MS to Durham NC - Nov. 21, 1998
Robby - Exeter RI to Virginia Beach VA - Feb. 13, 1999
Valentine Puppy - Abilene KS to Port Allegany PA - Feb. 19-21, 1999
Sparky - Windham NH to Cedar Grove NC - Apr. 17, 1999
Rooster - Cache OK to Napoleon OH - May 1-2, 1999 - Run cancelled
AC - Rock Island IL to Cedar Grove NC - May 8-9, 1999