Latest update 9/14/98 9:55 PM EDT
GREYHOUND
UNDERGROUND
RAILROAD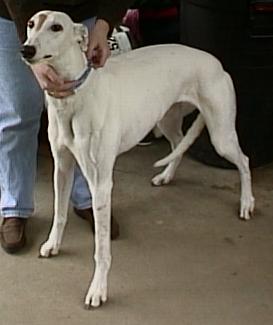 Decoy
HITCHHIKER: Special needs female Greyhound named Decoy. Age 4. Decoy was returned to GPS because of fear biting, and has been adopted by Kay Moore in NC. She (Decoy, not Kay) will be muzzled for travel and can be lightly sedated. Let's get this dog home to Kay where her problems can be worked out with understanding!
STARTING POINT: GPS in Goffstown NH (near Manchester)
DESTINATION: Durham NC
TARGET DATE: Sept. 12
WHERE DID WE GO?
Map courtesy of MapBlast
OUR INTREPID VOLUNTEER DRIVERS
For Sept 12-13: RUN FILLED!!! IT'S A GO!!!
Leg
To - from
Approx.
Miles
Approx.
Hours
ETA
Volunteer
Date
Avail.
Foster
Overnight?
1
Goffstown NH to Sturbridge MA
93
1h45m
DONE
Sue Nault
9/12
Yes
Paul and Sue (or backup) can haggle over the meeting place. Just let me know.
(backup)
CUR189
9/12
(backup)
Paul McBride
9/12
2
Sturbridge to Fairfield CT
98
1h40m
DONE
Paul McBride
9/12
3
Fairfield to Bloomfield NJ
64
1h10m
DONE
Risa Azner
9/12
4
Bloomfield to Cherry Hill NJ
81
2h
DONE
Liz Guadagno
9/12
(backup)
Maryann Protz
9/12
5
Cherry Hill to Damascus MD
161
2h45m
DONE
Damion Hunter
9/12
6
Damascus to Fredericksburg VA
94
1h40m
DONE
Frances Hawkins
9/12
(backup)
Susan Schwarz
9/12
7
Fredericksburg to Petersburg VA
79
1hr45m
DONE
Cathy Schuchman
9/12
8
Petersburg to Durham NC
129
2h10m
DONE
Robbin Wiseman
9/12
Foster overnight
Adopter
DONE
Robbin Wiseman
9/13
HOME!
Total
Goffstown NH to Durham NC
750 +/-
12-13h*
A lot of
wonderful
people!
------
Mission Accomplished! Thanks, everybody!!!
* Total driving time only. Potty stops, meal stops and transfer times between runners have not been factored in. Figure at least 15 minutes per transfer stop.
Be safe and be prepared to have a ball!
Thanks, everybody! You did it! Here's Decoy's first meeting with her new mom, Kay Moore 9/13/98: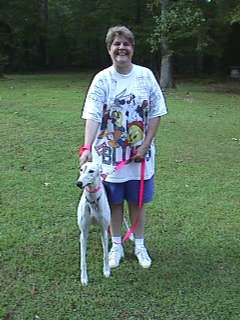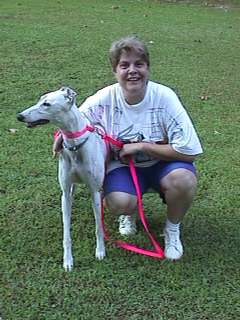 OTHER GUR RUNS
See where we've been and sometimes see pictures of our passengers along the way and/or with their new families.
GUR Unofficial Homepage - what we do and why we do it.
Tambourine and Apollo - St. Louis MO to Port Allegany PA - Aug. 8-9, 1998
Grant - Sarasota FL to Raleigh NC - Aug. 8, 1998
Keeley - Belington WV to St. Louis MO - Nov. 7, 1998
Gabbi - Tupelo MS to Durham NC - Nov. 21, 1998
Robby - Exeter RI to Virginia Beach VA - Feb. 13, 1999
Valentine Puppy - Abilene KS to Port Allegany PA - Feb. 19-21, 1999
Sparky - Windham NH to Cedar Grove NC - Apr. 17, 1999
Rooster - Cache OK to Napoleon OH - May 1-2, 1999 - Run cancelled
AC - Rock Island IL to Cedar Grove NC - May 8-9, 1999