Latest update 4/26/99 6:45 PM EDT
changes, updates, new additions in bold
GREYHOUND
UNDERGROUND
RAILROAD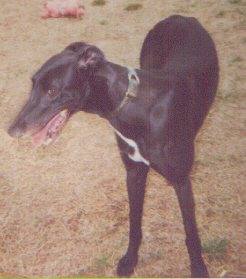 Crazic
HITCHHIKER: Crazic, a 2.5 year old Greyhound who is recovering from a broken leg. He has just had his cast removed and is unable to jump into or out of vehicles, so he has to be lifted. But this is a BIG dog. His weight will probably be mid-80's by the time this run goes.
STARTING POINT: Chicago IL
DESTINATION: Grand Rapids MI
TARGET DATE: May 2, 1999
Please see the suggested route table below the map. Anywhere there's a blank, it needs to be filled. And backups are crucial. They get called into action more often than you'd think. If you can take a leg (or two) or even part of a leg, please email Kate. Please don't be embarassed to volunteer for a partial leg. We can always try to find someone to fill in the gap. Some of the proposed legs are a bit long and none of them are carved in stone. Offering to help at all makes you a special Greyhound person.
WHERE ARE WE GOING?
Map courtesy of MapBlast
OUR INTREPID VOLUNTEER DRIVERS
(changes, updates, new additions in bold)
Leg
To - from
Approx.
Miles
Approx.
Hours
ETA
Volunteer
Date
Avail.
1
Chicago IL to St. Joseph MI
99
1h45m
Cammie Hernandez
5/2
backup
2
St. Joseph to Grand Rapids MI
83
1h30m
Cindy Slater
5/2
Total
------
* Total driving time only. Potty stops, meal stops and transfer times between runners have not been factored in. Figure at least 15 minutes per transfer stop.
ALL VOLUNTEERS: Some of you may be old hands at this, but some are new, so here are some suggestions. You will be receiving email messages as a group from me. Please save at least one of these messages (after all the spaces are filled) , as all the email addresses will be on it. If/when you reply to a group email, it's usually best to use your "Reply All" button unless your question or comment would not be of interest to the other volunteers.
Please contact both of the people you will be meeting as soon as possible. You will need to decide on specific meeting places, swap phone numbers (cell phone #s if you have them!), and descriptions of the vehicles you will be driving. If you have trouble finding a meeting place, let me know and I'll try to locate a truckstop or something for you.
When you have decided on your meeting places, please let me know. For security reasons, these will NOT be published here, but I do need to know. If you are meeting at a truckstop, restaurant or other place that will have a phone, please try to get the phone number for me. Also send me the descriptions of your vehicles. This is so I can reach you at your meeting place if necessary.
I will start filling in the ETA blocks on the tables when I get the start time for the first leg. I'll check with each of you as I go through them to be sure you think you can make the posted times. If you can't, we can adjust.
As far as I know, I will be at home near my phone and computer during the run (and most of the time until then). If I have to be away during the run, I will try to arrange for somebody else to be the central contact and let you all know who it is. If you run into any kind of problem before you leave, email me. If you run into any kind of problem after you leave that will cause a significant delay, call me or the central contact person ASAP.
When you get back from your run, please email me so I'll know your leg has been safely completed. Better yet, email the whole group. Once everybody has gotten home, it's fun to hear how the other legs went.
If you have trouble coming up with a meeting place, let me know. I may be able to help find something.
If you are listed as a backup, please make sure the primary driver for your leg knows all possible ways to contact you if you are needed.
Take with you:
Blankets or other soft bedding
Some water (preferably the bottled kind)
A water bowl
Spare leash and collar if you have them (accidents happen)
All contact names and numbers (including my phone number!)
Written directions to your meeting places unless you are personally familiar with them
Cell phone if you have one
Gas money or credit card
Your driver's license, registration and insurance card (trying to stay legal here)
Your camera - I hope some of you will have pictures to share with us
Be safe and be prepared to have a ball!
OTHER GUR RUNS
See where we've been and sometimes see pictures of our passengers along the way and/or with their new families.
GUR Unofficial Homepage - what we do and why we do it.
Calendar - scheduled runs
Tambourine and Apollo - St. Louis MO to Port Allegany PA - Aug. 8-9, 1998
Grant - Sarasota FL to Raleigh NC - Aug. 8, 1998
Decoy - Goffstown NH to Durham NC - Sep. 12, 1998
Keeley - Belington WV to St. Louis MO - Nov. 7, 1998
Gabbi - Tupelo MS to Durham NC - Nov. 21, 1998
Robby - Exeter RI to Virginia Beach VA - Feb. 13, 1999
Valentine Puppy (now named Jade) - Abilene KS to Port Allegany PA - Feb. 19-21, 1999
Sparky - Windham NH to Cedar Grove NC - Apr. 17, 1999
Rooster - Cache OK to Napoleon OH - May 1-2, 1999 - Run cancelled
AC - Rock Island IL to Cedar Grove NC - May 8-9, 1999