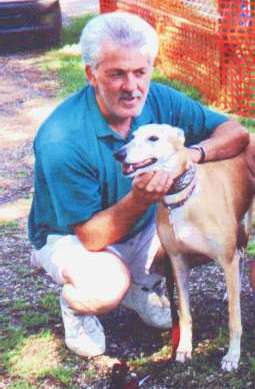 Rouletta is an adorable fawn female who recently
ended her career as a brood matron. She was
formerly owned by Loretta Thompson, who now
has some Rou's puppies on the track. Rouletta is
a half-sister to our dogs CJ and LB, having the
same mother. She is also a littermate of Soft
Seventeen, who holds a record for number of
career wins - 92!
We fostered Rou for a few days before she
went to live in Michigan with the Simmonds
family. Even after years and years of kennel life,
she fit in immediately and spent her first night here
on the couch! She's an exceptionally intelligent old
gal who knows exactly how to get what she wants.
Now she spends her time loving her new mom and
dad and keeping her brother Brickle in line.