Proud Boy
formerly Bricklane Brute
Proud Boy is on hold at this time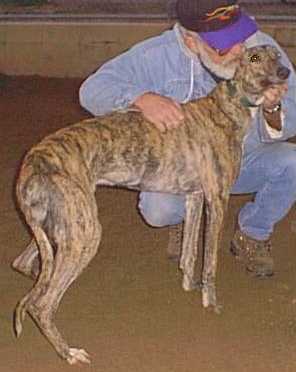 Kennel name:
Proud Boy
Status:
Available
Racing name:
Bricklane Brute
Tattoo numbers:
Right ear:
Left ear:
Source:
Brumage Kennels
Registered owner:
Harvey Maupin
Gender:
M
Age:
Approx. 21 mo.
Size:
approx. 70 lb, 29"
Color:
Brindle
Cat safe?
Unknown but very likely
Kid safe?
Yes
Small dog safe?
Unknown but very likely
Cause of retirement:
Flunked out of training
Present location:
Cross Lanes WV - Brumage Kennel
Comments:
Harvey says this dog is very friendly and affectionate, and we can vouch for that (see more pictures below). He gets along fine with other dogs in the kennel. This dog, like all of Harvey's, was hand-raised with his pet "career" in mind. He's still just a pup, so his future family should expect him to be fairly playful. He will remain at the racing kennel or be moved to the farm until he is adopted.
Update: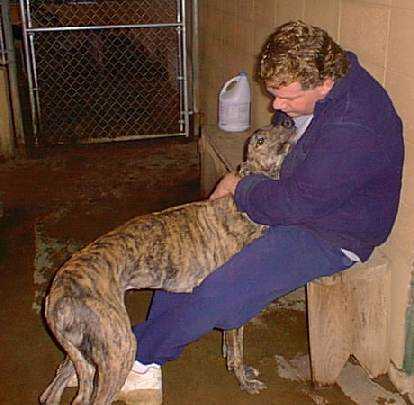 Proud Boy is devoted to Harvey (and vice versa). We're sure
he'll be just as devoted to his new family.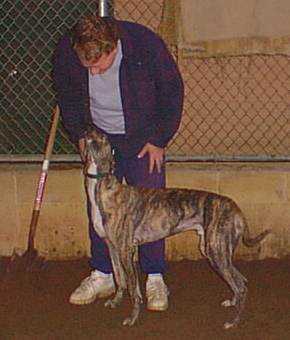 He's hoping Harvey will forget this picture-
taking nonsense and play!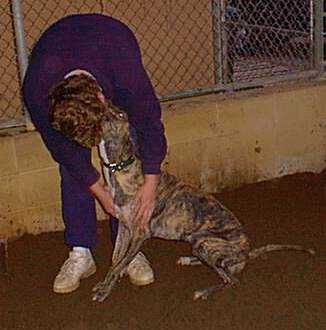 He even sits! A kiss might get this dog to do
anything.