Greyhound Puppy
Pre-Adoption
In our never-ending search to find more and better ways to re-home retiring racers, we came up with the idea of "pre-adoption". We chose two brand new litters of pups for our experiment. We took the first batch of pictures when they were two weeks old and posted them here, then gave the URL to friends. This was a private site at the time. Each of the 14 pups was quickly chosen by one of our friends, who would hopefully get to enjoy watching his or her puppy grow and develop into a racer, and then following that dog's racing career until it came home to live with them.
Pre-adoption is handled through Almost Heaven Greyhound Adoption. Pre-adopters are required to go through the normal screening process as you would when adopting any Greyhound.
Those who pre-adopted these pups are NOT obligated to actually adopt the puppy when the time comes, though we do expect them to seriously hope to be able to adopt when the time comes and believe it will likely be possible. But we all know it's hard to tell what our circumstances will be by then. By the same token, there is no guarantee that the pup they chose will actually be given up for adoption immediately after racing. You have a better chance with the boys because none of them are likely to be kept for breeding unless one really turns out to be a superstar. Some of the girls almost surely will go into the Mama Business after racing, though, and while they're very young it's impossible to predict which ones. Of course since there are nine girls among these first two litters, some of them are sure to be retired to pet homes. And presumably all will be adoptable after they finish their motherhood careers.
These two litters of special Greyhounds were born in June of 1999. The first grown up pictures were taken on 11/14/00, the day after the puppies arrived back at the racing kennel at Tri-State, fresh from training in Oklahoma. They were 16.5 mo old then. Please forgive the picture quality. The first batch of adult pictures were taken hastily. Most of the pups are much prettier than they look here.
The names with each pup aren't real names. I just didn't want to give them all numbers, so I stuck quicky names on them. Some have been changed by their pre-adopters. Then kennel names were given to them while they were in Oklahoma. Racing names have just been approved by NGA, but I don't have them yet. They will be posted as soon as I get them.
The two Moms are Wix Copycat and Webe Gone. Copycat (by Odd Spotlighter) was bred to Dutch Billy Boy for her litter. Webe (by Sunset Swale) was bred to Flying Missile for hers.
Now on to the pictures! One litter was born June 20, and the other June 22, but I can't remember which litter was which.
First the boys. The girls are on the next page.
Copycat's litter....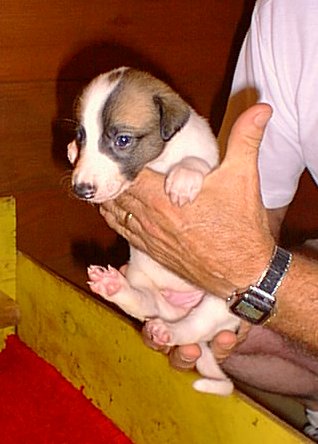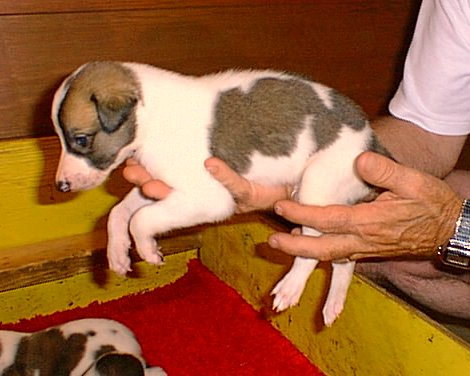 "CHIP" Can't tell yet if he'll be white/red
or white/fawn. Pre-adopted by Laurel Drew.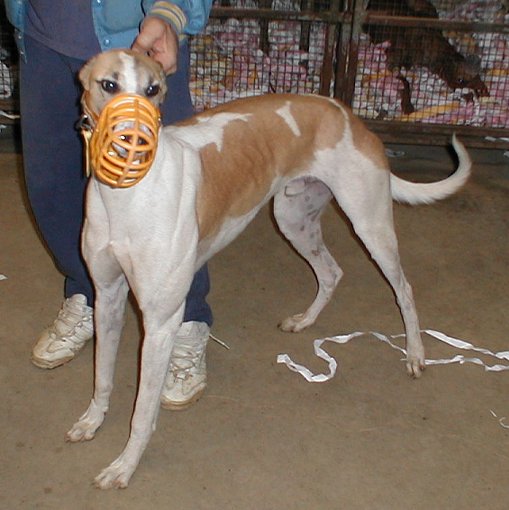 This is Chip at 16.5 mo. His kennel name is "Surely".
His racing name is Super Surely.
Click HERE for Surely's racing lines.
Click HERE for his charts.
Update March '01: Surely is now racing at Hinsdale.
---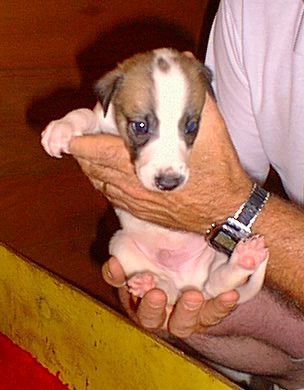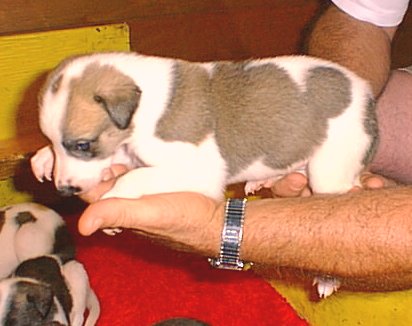 "KINCHEM" He's almost sure to be white/fawn.
Possibly sorta blue fawn.
Kinchem's first "adult" picture. His kennel name is Springer.
His racing name is Special Springer (alias "Jerry").
Click HERE for Springer's racing lines.
Click HERE for his charts.
Update July '01: Springer retired from Daytona. His pre-adopter was not in a position to be able to take him, so Springer was adopted through the GPA chapter at Daytona.
---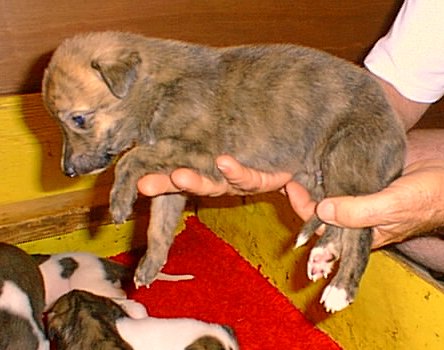 "KEEZA" - Sure looks like he's going to be red brindle.
His face reminds me of our Tony's. Pre-adopted by Danno Krapf.

Keeza at 16.5 mo. His kennel name is Shaky.
His racing name is Shake Up Shaky.
Click HERE for Shaky's racing lines.
Click HERE for his charts.
Update May '02: Very sadly, we have been told that Shaky broke a leg and had to be put to sleep.
Run with the angels, Shaky Boy! You were loved.
---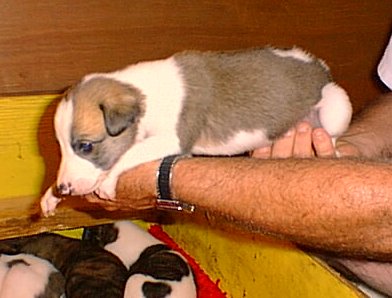 "BLAZE" He'll probably be white/fawn, too.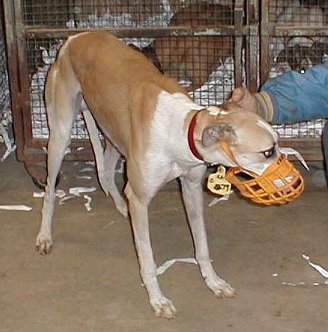 Blaze's first picture as a racer. His kennel name is Shady.
His racing name is Sane Shady.
Click HERE for Shady's racing lines.
Click HERE for his charts.
Update June '02: Shady was sent home from Jefferson County after winning his last race. Kathy was not in a position to be able to take him, but found a home for him in Canada where he will live near his sister Florida.
---
Webe Gone's one and only son...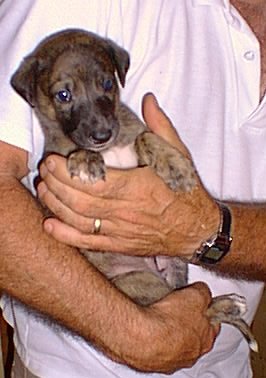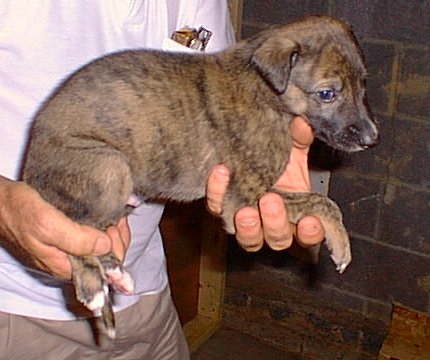 "CAGAN" The only boy in Webegone's litter. Poor little guy!
No wonder he has such a worried face!
Pre-adopted by Shannon McDonald.

Cagan's all grown up now (almost). His kennel name is Handy.
His racing name is Hardly Handy.
Click HERE for Handy's racing lines.
Click HERE for his charts.
Update June '02: Handy is still racing at Tri-State.
---
Now go see the girls! All 9 of them!