Margaret/Meg
Never individually registered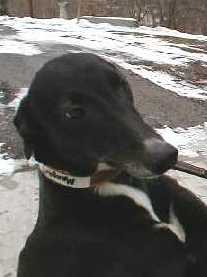 More pictures of Meg below.
(please let the page load completely before clicking)

Kennel name:
Margaret or Meg
Status:
Available
Racing name:
none
Tattoo numbers:
Right ear:
Left ear:
Source:
Breeder
Registered owner:
Margaret Cummings
Gender:
F
Age:
21 months (whelped 5/11/98)
Size:
approx. 55 lb, 26"
Color:
Black with tuxedo markings
Cat safe?
Unknown
Kid safe?
Unknown
Small dog safe?
Yes
Cause of retirement:
Training school flunk out
Present location:
Cross Lanes WV - HM adoption kennel
Comments:
Meg is currently a resident of our adoption kennel. She's a beautiful, tiny thing who stole our hearts the minute we saw her. She gets along well with the other dogs and has been no trouble at all. For a puppy she's remarkably quiet (so far <G>), but she's playful and friendly. This little gal needs to go home soon... while we can still let go!
Update:
Vet work done 2/3/00. Recovering nicely and back to her old self on 2/5. Heartworm test negative.
I'm not very impressed with standing to have my picture taken,
but I just LOVE to have my back scratched!
Playtime is even better! I love to give hugs and get smooches, too.
Uncle John is pretty cool. I just wish that woman with the camera would stop bugging me!