Flint
formerly Fuzzface Flint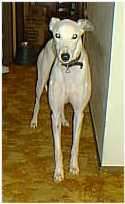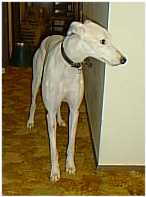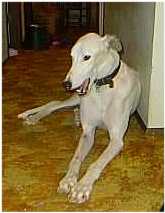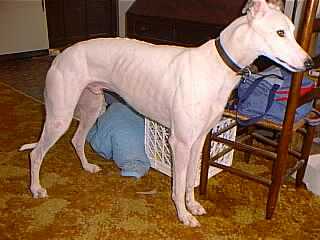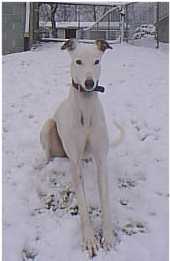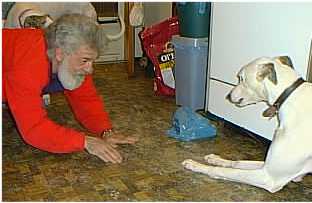 John and Flint bow at each other
Kennel name:
Flint (we also call him "Flintstone" or "Fred")
Status:
ADOPTED
Racing name:
Fuzzface Flint
Tattoo numbers:
Right ear:
Left ear:
Source:
Brummage Kennels
Registered owner:
Harvey Maupin
Gender:
M
Age:
2.5 years (born 9/96)
Size:
approx. 75 lb, 29" - will probably be about 80 lbs pet weight. He's a fairly big dog, and his white color makes him look even bigger.
Color:
Nearly all white w/ brindle ears and one small spot on back
Cat safe?
Maybe - hope to test 1/26
Kid safe?
YES
Small dog safe?
YES
Cause of retirement:
More interested in playing than racing - interference tickets.
Present location:
Belington WV
Comments:
Returned from first adoptive home because of cat attack. Very sweet and friendly after VERY short initial shyness. Currently in foster home with 8 other Greyhounds and 2 small dogs, and doing fine.
Update:
The shyness didn't last long. This guy is a real character who would probably do best in a home with 1-3 other Greyhounds and a strong alpha human. He's not a bad dog at all, but is exuberant, lively and a bit willful. Very happy and cheerful personality. Not destructive, but his curiosity gets him into everything! Snappy trainers would come in handy. Very intelligent, affectionate and playful, demanding a lot of attention. He smiles, nits, roos, loves toys, cockroaches, and sits naturally (though not on command yet) and has already discovered that the bed is the most comfy place for napping (no, we did NOT teach him this - he's just a smart dog). A drop-dead gorgeous dog, Flintstone will be a real joy to someone who is up to a bit of a challenge. He won't be easy, but he'll be worth it. But he won't make you tear your hair out, either. He'll just keep you on your toes and keep you laughing.